Prosciutto and Rosemary Cornmeal Cakes
IngridH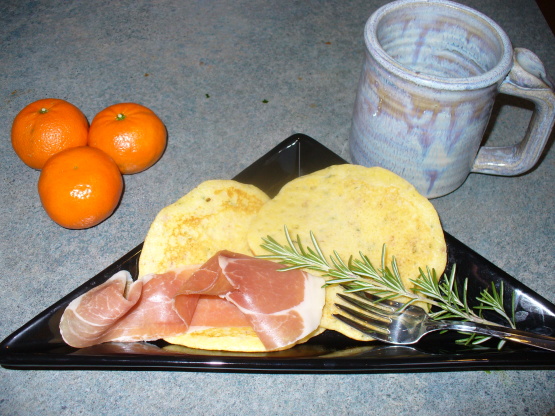 I love this savory and sweet breakfast. I cook my proscuitto first, as it is much easier to work with. See Crispy Crumbled Prosciutto

Thank you so much for my new breakfast treat! I love the way the tangy prosicutto and herby rosemary flavors offset the sweetness of the corn cake. These smelled so good while cooking that I ate one plain while waiting for the rest to cook- it didn't need the extra honey or syrup to make it tasty. I used your suggestion of precooking the prosciutto, which I did the day before, and it made it very easy to incorporate the meat into the batter. Thanks for a wonderful breakfast!
Mix all ingredients together.
Heat griddle over medium heat.
Add a little butter to surface of griddle and ladle about 1/4 cup of batter onto griddle for each corn cake.
Cook about 4 minutes on each side, until golden brown.
Serve with honey or syrup.