PetsRus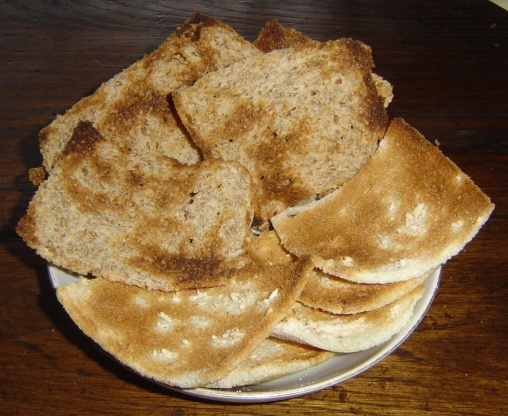 This is easy and well worth the effort. Serve this toast with any type of pate or starter you like.

I did a lot of experimentation with this recipe, and have come to the following conclusions: it's best to use a light, airy sort of bread (rather than a denser, heavier bread), whole wheat works fine, it's easier to avoid burning if you leave the rack at the centre of the oven rather than moving the rack up to the top. I got good results when following those tips. However, the amount of patience, attention and care that this requires means that I won't be doing this on a regular basis. Only when I want to impress!
melba toast

5

slices white bread or 5 slices whole wheat bread
Toast the bread slices on both sides, under the grill or use a bread toaster.
Cut off the crusts, lay the slices flat on a cutting board, put your hand on top of it, and using a serrated knife slide through the bread to split it, or hold it in your hand and cut through it rotating the slice of bread.
If you want, cut these thin slices into a triangle.
Do these above steps while the bread is still warm otherwise the bread will crumble or break.
Then you toast the untoasted sides under the grill until golden.
The sides will curl up; keep your eye on them because this will go very quick.
This can be made well in advance and kept in a tin.