SQRT3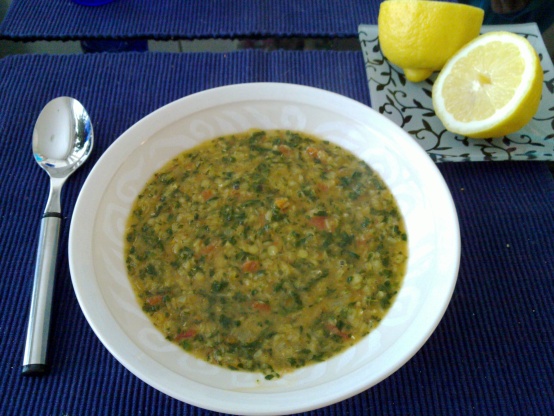 Subtly spiced yet very flavourful soup with lentils and spinach - one of my favourite lentil dishes! Recipe comes from Anna Bergenström's Nya Anna's Mat cookbook.
Rinse dry lentils well. Measure 900-1000 ml water into a saucepan, add lentils and simmer, covered, for about 30 minutes, or until the lentils are mushy. (They will not absorb all the water: do not drain!).
Heat butter or oil in a skillet and cook onions and garlic until softened and lightly browned. Add all spices and stir. Add canned, diced tomatoes and let the mixture simmer, covered, for 15 minutes.
Add spinach and cook until spinach is softened. Remove from heat; remove the cinnamon stick and bay leaf.
Combine cooked lentils (with liquid) and the onion-spinach mixture. Add salt to taste, chopped fresh parsley, and stir well to combine.
Serve hot, with lemon wedges, so each eater can squeeze some juice on the soup if they like!