Prize Winning Potato Salad
PanNan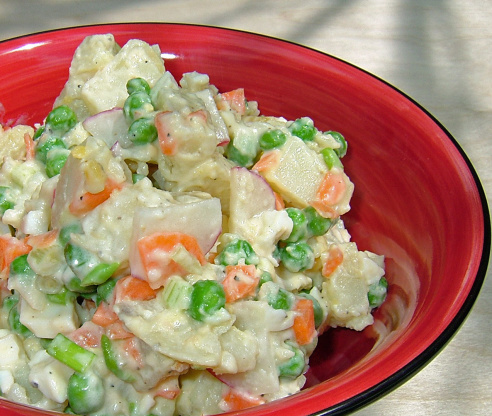 This is the way my Grandparents made it 50 years ago. This is my version and the horse radish and the Kraft Miracle whip give it the zing.The only dressing that gives the correct flavor is Kraft Miracle Whip; nothing else works. I tried it in Australia and was sadly disappointed because Kraft Miracle Whip is not available there. I also like the frozen peas put in just before serving as they are obviously cold and they pop in your mouth.
Cook potatoes in boiling water until tender.
Drain potatoes and cut cup but not too small.
Cook, peel and cut up hard boiled eggs.
Chop green onions, shred carrot, and finely chop celery and radishes; add to potatoes and eggs.
Add enough Miracle Whip to moisten.
Add horseradish and pepper.
Lastly, add still frozen green peas just 5 to 10 minutes prior to serving.