WiGal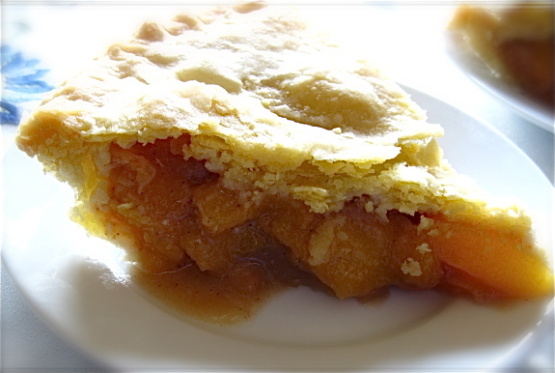 As a beginning cook, I especially liked to practice making pies. Peaches are probably my favorite fruit (but only when in season), so it was a pie I practiced often. I finally got up the nerve to enter a local Grange Fair, and was so surprised to win! That was great encouragement for a novice pie maker.

Top Review by WiGal
Definitely could give this more than 5 stars! My DH raved about this pie! The spice combination and cream mixture is perfectly delicious! I baked mine longer but it could be the oven or b/c I use a special tin under the pie tin in case there is a spill over. Thanks JackieOhNo! for sharing a prize winner! Made for PRMR.
Preheat oven to 425 degrees. On a lightly floured board, roll out bottom crust and fit into the bottom of a 9-inch pie pan.
In a large bowl, combine sugar, flour, cinnamon, nutmeg and salt. Add peaches and stir until they are coated. Spoon peaches into lined pie pan.
Mix together egg and cream and pour over peaches. Roll the remaining pie pastry to cover pie and place over the peaches. Round edges to seal; prick top of pastry to let steam escape.
Bake for 15 minutes at 425, then reduce oven temperature to 350 and bake until crust is golden, about 30 minutes. Serve warm.