Prize Winning Banana Nut Bread
YaYa1689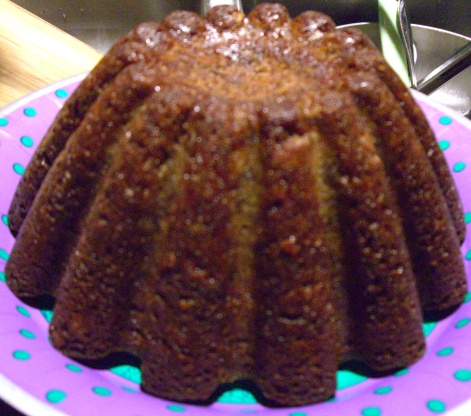 I have won ribbons with this recipe which I received from my grandmother. The only thing I do that is different from my grandmothers is I just throw the bananas in the freezer whole and unpeeled. Then I let them thaw and squeeze them into the batter when the recipe calls for them. I think that is the secret to the moist, denseness that my banana bread has. This bread CAN NOT be doubled. I know because I have tried 3 times and the bread won't rise. Cool COMPLETELY on a rack before wrapping and refrigerating. Or it will be icky and sticky in the middle. Enjoy!

Great bread! Thanks for sharing! To double (or triple, or quadruple) recipes, you need to first figure out the weight of each ingredient. Always figure the flour is 100% and then you need to then figure out the percentage of each of the other ingredient in relation to the flour. So, if you have 1 lb of flour and that is 100%, and if you have 4 oz sugar, your sugar is 25% compared to the flour (your percentages will never total 100%--that is not the goal you are after here). If your butter is 8 ounces, it is 50% in comparison to the flour. After figuring out the percentage of all your ingredients, you then multiply accordingly. So, if your flour is 1 lb initially and is 100% and you want to double the recipe, you would put in 2 lbs of flour, 8 oz of sugar, 1 lb of butter, etc. We should all weigh our ingredients but converting recipes is a bit tedious. If you are going to double this recipe often though, it would be worth the trouble because you would only have to figure the percentages once. My biggest problem is eggs. What chicken ever laid a perfect 1 oz egg??? Anyway, hope that helps.
Preheat oven to 300 degrees.
Whip egg whites to stiff peaks and set aside.
In mixer, cream butter and sugar; add egg yolks, soda, milk, and vanilla.
Slowly add flour until well mixed.
Add bananas and mix well.
Stir in nuts.
Hand fold in whipped egg whites.
Fill 2 oiled Med. size loaf pans only half full.
Or 1 bunt pan with a tube.
Bake at 300* for 1 hour, or until toothpick comes out clean.
After 10 minutes turn onto a rack to cool.
***Cool completely on wire rack before wrapping***.
Refrigerate after cooled.