Princess Roasted Red Pepper Chicken With Creamy Risotto
Asha1126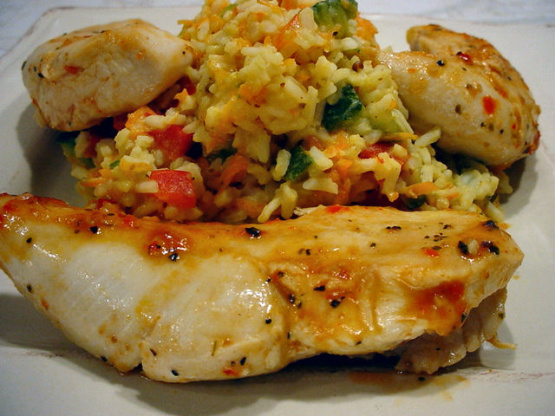 This makes an absolutely wonderful and easy chicken dinner. I made this for my niece for dinner and she thought it was fabulous. The chicken was moist, flavorful and delicious and the rice was creamy and tasty. She thought it was one of the best rice sides as well. I altered a Beef Tenderloin recipe that calls for Minute Rice, but I substituted Organic Jasmine Rice (Prepared as the recipe states for the Minute Rice (ingredients) - with adjusted time and in it's own pot – then added to veggie pan) and it worked out perfectly. Enjoy!

Mmm I loved this, and so did my husband! I let the chicken marinate for about 2 hours in a baking dish and then I just put the entire thing in the oven at 350 for 40 minutes and made the rice on the stovetop, it was fabulous! I didn't have any zuchinni so I used a green pepper and some onions and the carrot and red pepper. Definitely a make again and again
Heat 1 Tablespoon of the Dressing in saucepan. Add Zucchini, Carrot, and Red Pepper; Cook until crisp-tender, stirring frequently.
Stir in Rice, Broth, Milk and Mustard, bring to a boil; Cover; Remove from heat; Let Stand 5 Minutes.
Meanwhile, cook Chicken in another skillet in remaining Dressing on medium heat for 8 minutes.
Turn Chicken over; Cover; Cook an Additional 10-15 minutes or until Chicken is cooked through.