Princeling's Summer Salad
twissis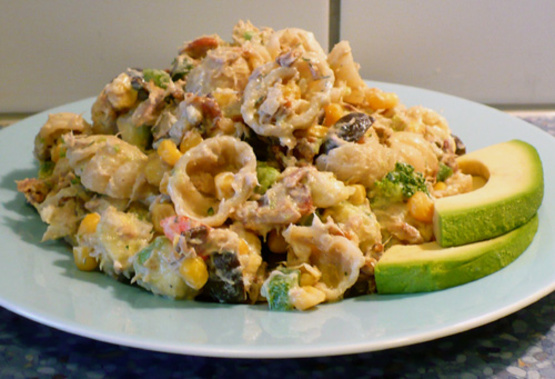 This is a pasta salad that my son, "the princeling", loves. It's pretty flexible, so the quantities aren't too specific. Basically, it's a pasta salad that uses sour cream rather than mayonaise as the binder. You can change up the kind of pasta or add almost anything your family likes to this and make it "yours". We have used cubes of Genoa Sausage rather than the tuna, but the princeling didn't like it as well... It makes a big bowl, leftovers hold well for a couple days; they tend to taste even better than the first time around. By the way, I didn't count the cooling time for the pasta in the prep time. You can cool it under running water or stick it overnight in the refrigerator.

Made for Spring PAC 2013 - What I like most about pasta salads is they are flexible & easily allow for pers pref. What I liked most about this pasta salad is it is veggie-rich & uses sour cream vs mayo. Mayo is 80% fat (per internet sources). I used a 5% fat sour cream & did not feel at all deprived due to the goodness of the other salad ingredients (both flavor & texture). I did not have tri-color pasta, so I used a sml shell pasta & made the recipe exactly as written except for adding corn kernels left from another recipe. I think baby shrimp would also work well, but I would be liberal w/Old Bay Seasoning in that case. I am so glad I found Princelings recipe. Besides being downright good & satisfying as a main-meal w/just fruit, it is a sure-fire all-occasion crowd-pleaser for luncheon guests, pot-luck, picnics, patio parties, etc. Thx for sharing this recipe w/us.
Add dill weed and dried minced onion to the sour cream and set aside.
Place cooled spiral noodles into a large bowl.
Add brocoli, black olives, avocado cubes, tuna, bacon bits, green peppers, and whatever optional items you like.
Toss well so that the add-in items are well distributed.
Add the sour cream mixture, so that it is throughout the pasta mixture.
Put the dish in the refrigerator for a few hours or overnight so that the flavors meld well.
Serrve. It makes a good complete meal for hot summer days.