Prime Rib Roast Beef With Fresh Garlic and Rosemary
Rita1652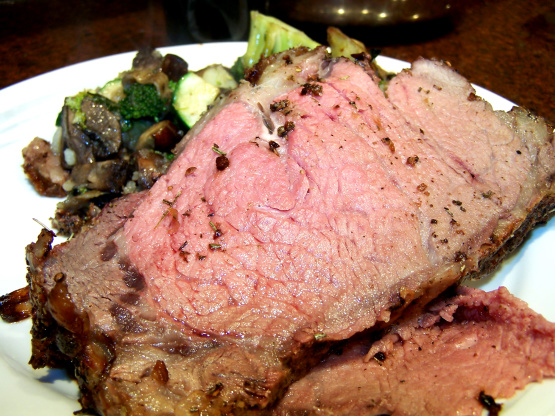 I got the roasting idea from Paula Deen. When I first saw this way of cooking I said to myself "Get out of here"! BUT this is great for putting in the oven and going to a movie, spending time with guests, preparing the rest of the meal, or just you time. I changed the time to what worked for me. Seasoned to the way we like it. With lots of Fresh Garlic and Rosemary. I made boneless because that is what was for sale. And makes for easy slicing! The cooking time is the actual time roast is in oven while on. Add 3 hours for resting in cooling oven. Oven Door MUST stay closed.

I'll add to the 5 star ratings here. Did this for Christmas day Rib Eye Roast - 10lbs. Everyone raved about it. Even my parents who don't eat a lot of red meat went back for seconds. Finished it off by deglazing the pan and making a Cabernet reduction. This was a real winner and I will come back to it again to be sure. Thanks for sharing this one Rita.
Allow roast to stand at room temperature for at least 1 hour.
Meanwhile mix salt pepper and rosemary together.
Preheat the oven to 375 degree F.
Score roast in 10 random spots for the garlic. Rub roast with the seasoning mix. Place cloves into slices.
Place roast on a rack in the pan with the fat side up.
Roast for 1 hour.
Turn off oven.
Leave roast in oven but do not open oven door for 3 hours.
About 30 to 40 minutes before serving time, turn oven to 375 degrees F and reheat the roast.
Important-- Do not remove roast or re-open the oven door from time roast is put in until 20 minutes before ready to serve.
Remove roast 20 minutes after heating.
Slice end cuts for those that like medium well, center cuts for those that like it medium rare to rare.