3 Reviews
Most Helpful
Newest
Highest Rating
Oh and for a additional meal with the leftovers try it blackened style! Use paul prodome's blackend redfish magic, a cast iron skillet and a little butter and oh what a meal! served some leftover ajus and your in for a treat!

I will never make prime rib any other way! This is truly foolproof and idiot-proof. Prime rib is SO expensive, so I always approach it with some trepidation, worrying that I will overcook it and waste my money. Sometimes I win, and sometimes I lose. However, I now know I can win every time! This was so easy. I followed the timing for medium-rare, and it was perfect. I must say that the au jus gravy was phenomenal as well. The only thing I suggest is to prepare your side dishes the day before (unless you have a second oven) and plan on reheating them in the microwave or after the roast comes out of the oven. I did steal some of the drippings to make a Yorkshire pudding, which didn't effect the gravy at all. Thank you, thank you, thank you for sharing this and making my holidays complete!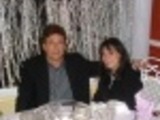 This was awesome! I love the flexibility this recipe gave me to set the serving time after the initial prep and bake. I had about three different recipes I had received when I told people I was making my first prime rib. I took the cooking time/method from this one with most of the ingredients. The only change was that I rubbed mine with olive oil and used Montreal Steak seaoning along with five crushed garlic cloves. I followed the cooking directions to the letter though and this gave me a perfect med rare prime rib! I also added Horseradish Sauce MizzNezz Horseradish Sauce. Thank you!
Prime Rib (Foolproof ) With Au Jus Gravy