Prime Rib (Foolproof ) With Au Jus Gravy
Prep 5 mins
Cook 1 hr 30 mins

A Christmas dinner tradition in my family accompanied with twice baked potatoes, rolls, green beans, fruit and great desserts! And the left overs are even better. Find roasts on sale?--have butcher give you the twine and place the seasonings on the roast, tie and freeze. Will marinate itself while you thaw it.
Directions
Have butcher cut ribs away from roast.
Season entire ROOM TEMPERATURE roast and between roast and ribs with heavy garlic, salt, pepper, marjoram, thyme and basil. Drizzle with Worcestershire.
START IN EARLY AM (6 OR 7).
Let rib roast stand for at least 2 hours until room temperature.
Place meat in iron skillet, fat side up.
Place in cold oven; turn on to 350° for one hour.
Turn off oven.
DO NOT PEEK OR OPEN OVEN AT ALL!
For rare meat, turn oven back on at 350° 1 hour before you want to serve for 20 minutes, leave in oven for remaining time.
Med Rare- 1 hour before serving turn on for 30 minutes, leave in oven for 30 minutes Well- 1 hour before serving turn on for 40 minutes, leave in oven for 20 minutes Gravy: Remove meat from skillet.
Put all gravy ingredients into skillet except cornstarch and water.
Scrape bottom of skillet to remove bits from pan.
When mushrooms are done, add cornstarch mixture 1/4 cup at a time and allow to thicken to desired consistency.
Reviews
Most Helpful
Oh and for a additional meal with the leftovers try it blackened style! Use paul prodome's blackend redfish magic, a cast iron skillet and a little butter and oh what a meal! served some leftover ajus and your in for a treat!

I will never make prime rib any other way! This is truly foolproof and idiot-proof. Prime rib is SO expensive, so I always approach it with some trepidation, worrying that I will overcook it and waste my money. Sometimes I win, and sometimes I lose. However, I now know I can win every time! This was so easy. I followed the timing for medium-rare, and it was perfect. I must say that the au jus gravy was phenomenal as well. The only thing I suggest is to prepare your side dishes the day before (unless you have a second oven) and plan on reheating them in the microwave or after the roast comes out of the oven. I did steal some of the drippings to make a Yorkshire pudding, which didn't effect the gravy at all. Thank you, thank you, thank you for sharing this and making my holidays complete!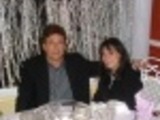 This was awesome! I love the flexibility this recipe gave me to set the serving time after the initial prep and bake. I had about three different recipes I had received when I told people I was making my first prime rib. I took the cooking time/method from this one with most of the ingredients. The only change was that I rubbed mine with olive oil and used Montreal Steak seaoning along with five crushed garlic cloves. I followed the cooking directions to the letter though and this gave me a perfect med rare prime rib! I also added Horseradish Sauce MizzNezz Horseradish Sauce. Thank you!