Prep 10 mins
Cook 15 mins
This is a great summer recipes using zucchini and summer squash.
Directions
Cook fettuccine according to package directions.
Bring 3/4 c broth to boil and add all veggies, basil and salt. Return to boil reduce heat and cover 6-8 minutes.
Mix remaining broth and cornstarch then add to veggies. Cook and stir occasionally 2 minutes removed form heat and add to tomatoes, sour cream, cheese, parsley and fettuccine.
Mix together and serve.
Reviews
Most Helpful
I just finished serving this for my girlfriends who all cleaned their plates and asked for the recipe. I will probably grill some chicken to go with this when I serve hubby the leftovers tomorrow. This was easy and I will definitely make it again. Fat and calories much better than other cream sauces I've seen. I think you could use the light sour cream (I'd recommend Daisy--no additives.) I actually had to modify this somewhat, as I was low on parmesan. I had the generic italian mixed cheese (romano, parmesan, asiago, etc.) and used it with my parmesan. Also forgot to procure the fresh herbs, I used jar basil and skipped the parsley altogether-it will be better next time with those included fresh. Loved this!
I first saw this in Taste of Home, but couldn't find it again when I needed it. Trust 'Zaar to have it! I loved this recipe. It is reminiscent of a lighter alfredo with lots of veggies. I used frozen broccoli, no carrots and just now realized that I forgot the basil. It was still yummy! Thanks for posting!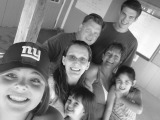 Yummy! This was simple and good. I used all of the veggies listed except the carrots. Thanks Samantha in Utah for a nice meal. Made for All You Can Cook Buffet special.