Primal Pumpkin Pie Squares
zedkay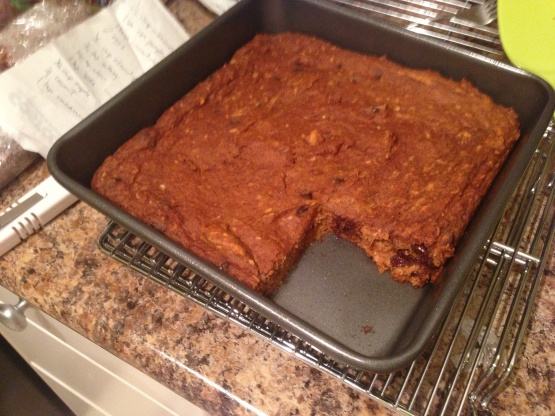 Scrumptious comfort food that is primal/paleo/low carb friendly.
Melt coconut oil and almond butter briefly in microwave (just enough to thin it out, but not make it hot).
Combine above with pumpkin purée. Add in beaten eggs, maple syrup and vanilla/almond extract.
Stir in almond flour, coconut, spices and soda.
Fold in chocolate chips.
Spread batter into a greased 9x9 square pan.
Bake at 350F for 30 minutes. Adjust cooking times to your own texture preferences (less time for gooey squares, more time for ones that are more set).
Cool for 5-10 minutes. Cut into squares and enjoy! Delicious served warm.