Pride of Deer Camp Barbecue Sauce-Marinade
Prep 10 mins
Cook 30 mins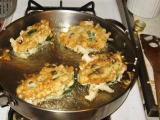 If you watched The Frugal Gourmet on PBS years ago when his show was the best, you may have seen Jeff Smith make this barbecue sauce. It's a very old recipe (not one of his originally) and it makes a great pork or beef rib marinade. If I recall correctly, Jeff Smith said an old woman who ran a hotel in Chicago gave him the recipe. Anyway, it will keep for a long time, stored in the refrigerator. Another great use for this blend is as a Bloody Mary base -- see directions below. This sauce is much thinner than most barbecue sauces and the recipe makes a LOT as listed! Enjoy. big pat.
Directions
Do not prepare any part of this recipe in aluminum vessels -- it will ruin them!
Mix all ingredients in a large cooking pot and bring to a boil. Reduce the heat, cover and allow it to simmer for about 30 minutes.
I store mine in gallon jugs in the refrigerator.
For the PODC Bloody Mary: 1 1/2 oz. vodka; 1 1/2 oz. tomato juice; dash of fresh lemon juice, and; 1/2 teaspoons PODC barbecue sauce. Shake well with crushed ice and serve on the rocks with a celery stick.
Most Helpful
My husband made this year's ago from a Jeff Smith cookbook. Delicious in fluffy hot white rice. Not meant as a traditional BBQ sauce replacement; I read online that it originated as a marinade to take the
Thanks I made this years ago and lost the recipe during a move. This is best when used on pork then grilled
Have made this for years, starting with the first Jeff Smith program and book. Glad to see it online. You can substitute 3Qt white vinegar and a bottle of cheap dry red wine for the red wine vinegar(which is REALLY pricey). Also, this sauce needs NO refrigeration---anything with this much vinegar and salt can't go bad, I've never had a problem in 30yrs. But store it in glass or plastic(like a vinegar jug, ketchup or salad dressing bottle), it "ate" the lid off of a Mason jar in a year. I marinate pork and chicken and keep a re-purposed ketchup bottle of it on my table for sprinkling. My favorite recipe is throwing an 8lb pork loin and a cup or so of this sauce into a slow cooker on high for 4hrs---then shred---no fuss pulled pork. You might want to add a cup of store-bought BBQ sauce after shredding depending on your taste.