Pricilla's Grilled Salmon
lazyme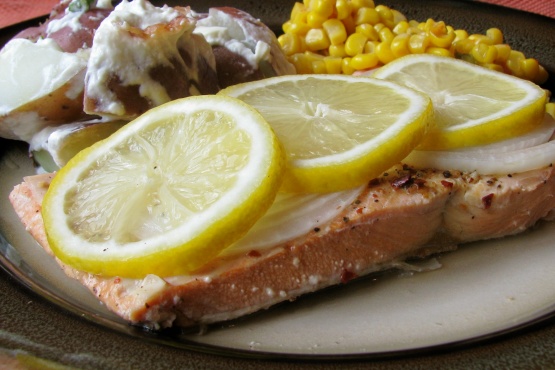 This is the only way I make salmon my way. Very good and everyone just Loves It!

Superb! We really liked this salmon dish. The garlic and onion added such a wonderful zesty taste, and of course the classic lemon slices added that perfect citrus touch. This is a definitely "keeper". Thanks for sharing your recipe, Pricilla. Made for 2009 Fall Pick-A-Chef.
On the BBQ (or you can use Oven) place foil down poking a couple small holes to allow some of the juices to drip onto fire with the sides folded up to lay over the top of the fish. Place skin side down and season with all the dry ingredients I'm not sure about the actual measurements since I just shake everything over the fish liberally (You want to slice down the bone so fish lays flat). I then thinly slice sweet onions to cover the fish liberally and then cover with lemon slices. Melt butter, saute finely chopped garlic in for those of us garlic lovers, than add the wine, keep on low simmer for basting. You can use as much or as little of these ingredients as you want! It's up to your taste, baste frequently, I use a turkey baster. I know this is not precise but it has always gotten raves. I've done this for big parties with other types of BBQ salmon (with the brown surgar, soy sauce, etc) and mine was gone in a heartbeat! The others still sitting there. This is more like a poached fish and OH SO GOOD! I either fillet the salmon or just slice down the backbone so I can lift out each side of the bones all at once after it has cooked. 2 sides. This also allows the fish to lay flat on the grill.
You just keep the foil loose/sealed to keep the steam and smoke in the fish and make sure that it stays moist, having the layer of onion and then lemons help keep this fish really moist. You can open the foil towards the end to give it a more char look.
Depending on the size of fish you get adjust cooking times accordingly you will also need to adjust ingredient amounts to size of fish you are BBQing. Hope this works for you.