Marc R.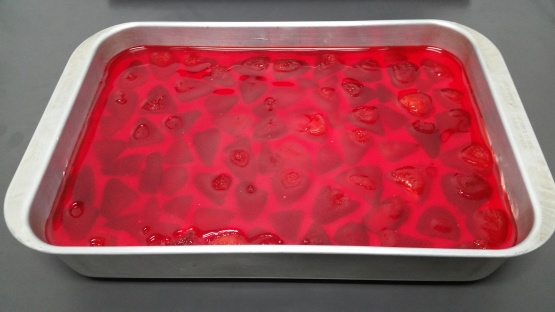 Great strawberry dessert that perfectly mixes the sweet and (slightly) salty taste combination! Not sure where this came from, but it's been passed around the family for quite a few years now. Contains: Pretzels, strawberries, whipped topping, strawberry cream cheese & strawberry jello.

I'm a died-in-the-wool jello (AND strawberry AND pretzel) fan, so . . . ! I realize it's not the healthiest thing for me to eat, but it's still ONE GREAT DESSERT, oh, yes ~ we really enjoyed the use of pretzels here! AND, it's something out of the ordinary, in my book, so I'll be keeping it on hand! Thanks so much for sharing a great recipe! [Tagged, made & reviewed for one of my adoptees at the tail end of the current Pick A Chef]
Dissolve jello in boiling water and set aside to cool.
Preheat oven to 350 degrees.
Melt margarine in small pan, add 3 tablespoons sugar, mix and then add crushed pretzels. Mix until well coated and pour into 9 x 13 pan and spread out to coat bottom. Bake in oven for 8 minutes. Let cool.
Mix cream cheese and 1 cup sugar together well and then mix in 12 oz. whipped topping. Mix well and then pour on top of pretzel mix. Spread evenly in pan and "seal" mix to edge of pan to protect pretzel mix below.
Cut strawberries in half lengthwise and put on top of whipped topping mixture, slightly pushing into mix to hold them in place. Carefully pour jello mix on top of mixture.
Cover pan and refrigerate for at least 4 hours until jello sets up.
Be sure to cut through pretzel mix when serving.