Chef Dee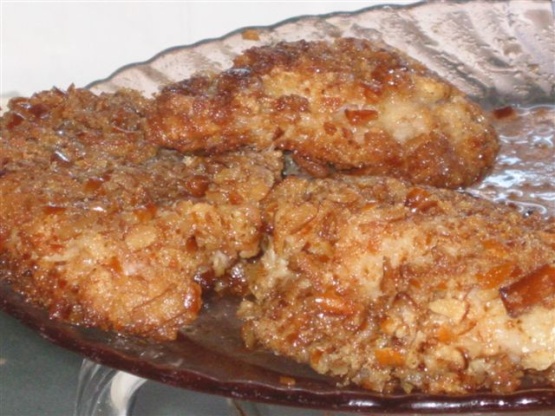 I never thought I would submit a fish recipe, but the kids found this on the net and talked me into making it. Wow, the salty crunchy coating is fantastic, especially fried in butter.

Oh yum! Made this today with some fresh cod fillets. The only additional flavor I added was a light brush of mustard on each fillet before the flour, egg, and pretzel crumbs went on. The final flavor and texture were both excellent; I'll definitely make this again. Even though there were no nuts in the recipe, as I ate it I was reminded of my favorite pecan crusted fish at a local restaurant. That's served with a maple butter sauce, and so I drizzled my piece of fish with a little maple syrup. Delectable!
Mix the flour and seasonings in a plastic bag.
Place stirred eggs and pretzels onto seperate plates.
Dip the fish into the flour, then the eggs, then the pretzels.
Fry in hot butter or oil until golden brown and it flakes easily with a fork, about 10m min's.