Pretzel Magic Wands - Halloween / Birthday Fun
Um Safia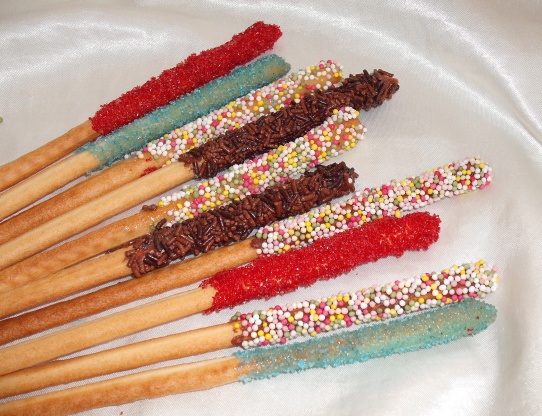 Whether you need magic wands for a witch, a wizard or a fairy princess, you can adjust this recipe to suit your needs. These wands are fun & easy to make - get the kids in the kitchen......I can only get pretzel rods in the UK when it's around Christmas time so the rest of the year I use Toresini breadsticks which are the same size..

I doubled the amount of everything, and used honey on one half of the pretzel sticks, and nutella on the other half. I stick with various kinds of sprinkles (chocolate sprinkles for the ones with honey, multi coloured sprinkles with the chocolate spread). They were so delicious, and unfortunately all are gone. Apparently, these yummy wands were too popular for their own good.
10

ounces pretzel rods or 125 g torinesi breadsticks

3

tablespoons chocolate spread (Nutella etc)

3

tablespoons honey
candy sprinkles
colored crystal sugar
edible glitter
Cover the top 1/3 of each pretzel in a thin coat of either chocolate spread or honey . Cover that part completely with sprinkles or coloured sugar & also the glitter if you wish.
(To make your own coloured sugar mix a tiny drop of food colouring of your choice into a few tbsp of granulated sugar & mix well until the colour is evenly distributed).
Allow the wands to set for a minute or two before serving.
You can store these ready made in an airtight container for a couple of days.