diner524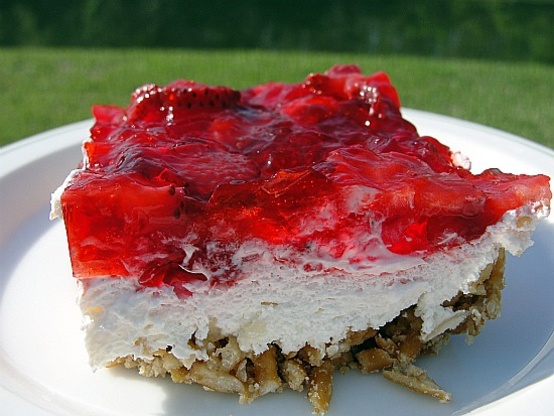 I got this recipe from a friend Lynn when we hosted a BBQ for our families (we shared an apartment a few years after college). My family loved this recipe. It's perfect for summer and eating outside, but wait to bring it out into the heat until you are ready to eat.
Not strictly a salad in my books, but really nice and refreshing dessert. I used only 1/2 cup of sugar, perfect for us. Because it's not a berry season, I made it with peach jello and canned peaches, not bad!
Preheat oven to 350 degrees.
Place pretzels in ziplock bag and crush into small pieces using rolling pin. Measure pretzels after crushing.
Mix together pretzels, 3 tbsp sugar, and butter.
Pat pretzel mixture into a 9 x 11 pan and bake for 10 minutes.
When the crust is cool, mix cream cheese, 3/4 cup sugar and Cool Whip together and spread on crust.
Bring 2 cups water to a boil and stir in strawberry Jello. Add cold water and mix well.
Add strawberries.
Let mixture set until slightly thickened, then pour over cream cheese mixture.
Refrigerate until jello is firm.