alligirl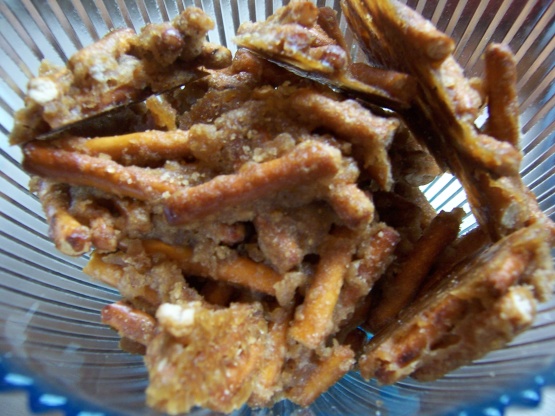 Make a big batch of this and treat it like brittle. Or, break it up and put it over desserts. It is so good and crunchy....and addictive.

I loved the flavor of this, but had a couple of problems. When mixing the sugar and butter, mine was 'tight', like a ball, and didn't coat the pretzels very well. After being in the oven for 5 minutes, I took it out, stirred well, to re-distribute the sugar mixture (which had softened from the heat), and returned to the oven. I repeated this twice, and should have lowered the temperature a little, as some of the sugar was a tad burnt tasting; not bad enough to throw out, but noticeable. I went back and checked to make sure my amounts were right and they were...I'm not sure how to fix this...less sugar? I did pack my brown sugar, as a habit, and perhaps that was my mistake. We enjoyed this anyway, and DS has asked for it a couple of times since I made it. Thanks for sharing, Small Town Cook.
Preheat oven to 450 and line a jelly roll pan with foil.
Break up pretzels on pan.
Melt butter.
Add brown sugar and stir well.
Pour over pretzels and stir until well coated.
Bake 5 minutes.
Cool and break apart as desired.