Pretzel Chicken With Dijon or Honey Mustard Dressing
Demandy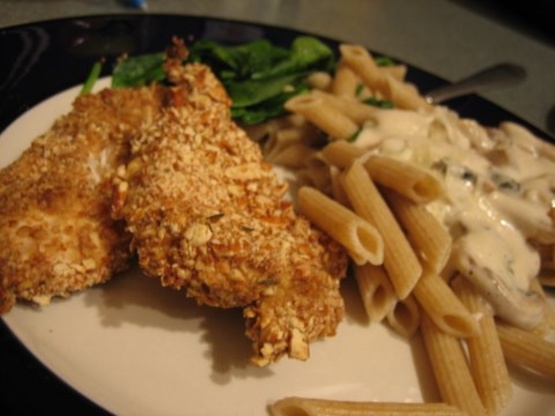 I love pretzels with mustard and this recipe really shows off that wonderful pairing. It is a great chicken recipe that yields a crispy and flavorful crust and tender juicy meat. Depending on the flavor you want to experience you can use Honey Mustard or Dijon. To ensure a crisp crust, it's imperative to use thick, hard pretzels, like sourdough or Salzstangen. WINE: A fruity wine with some sweetness, like a German Riesling, makes a nice counterpoint to the salty pretzel, and works even better as a complement to pretzels and Dijon mustard. This choice works well with the Honey Mustard also as it will make your wine seem drier than it really so a Riesling will be a nice balance. I chose a sweet 2004 St. Urbans-Hof Riesling which paired nicely. If you want a wonderful taste sensation try a 2001 Langwerth von Simmern Erbacher Marcobrunn Spatlese Riesling that is not quite as sweet.

My favorite part of this recipe was the sauce! I used Dijon, and spicy mustard (I didnt have whole grain on hand). My trouble came in crushing my pretzels. My food processor left huge chunks or pretzel dust...no nice in between sized crumbs, so I took a hammer to the pretzels after putting them in a baggie and under a towel. Also, I cut the recipe down and only made 4 chicken breasts but everything came out splendidly! Thanks!
4

cups hard pretzels, coarsely crushed
1⁄4 teaspoon cayenne (optional)
1⁄2 cup canola oil
1⁄2 cup whole grain mustard

2

tablespoons Dijon mustard or 2 tablespoons honey mustard, good quality
1⁄4 cup water

3

tablespoons red wine vinegar
1⁄4 teaspoon cayenne (optional)
salt & freshly ground black pepper
Preheat the oven to 400°.
In a blender or food processor, pulse the hard pretzels until coarsely ground with the cayenne (optional); you are going for a mixture that has both coarse and ground pretzels. Transfer to a shallow bowl or plate and set aside.
In a clean blender or food processor, add oil, mustards, water and vinegar (and optional cayenne) and blend until smooth. Season the dressing with salt and pepper, to taste.
Add half of the dressing to another shallow bowl or container, add chicken and coat with dressing. Dredge the chicken in the pretzel crumbs to cover all sides and transfer to a rack that is placed on a rimmed baking sheet.
Place chicken in the upper third of the oven and bake for 20 to 25 minutes, or until cooked through. Slice or serve whole and either warm or at room temperature with the remaining mustard dressing.