Presto Polento (Microwave)
katew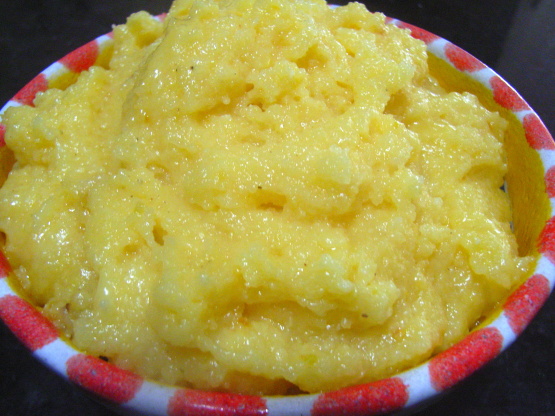 Simple peasant food, polenta provides the perfect foil for spicy dishes. Offer it as a side dish, embellished with butter and Parmesan cheese; or serve it as you would pasta, topped with your favorite meat or tomato sauce. Polenta also makes a good breakfast. Once you've cooked it, pack it into a loaf pan; let cool, then cover and refrigerator until thoroughly chilled. Slice the polenta 1/2-inch thick, brown the slices in butter, and serve with maple syrup. This recipe is from the Sunset Microwave Main Dishes cookbook. Please note: This recipe was cooked and tested on a 700-watt microwave. If your microwave is a higher wattage, you may want to lower the cooking power.

I've never tried polenta but I had gone as far as buying a packet, so this worked out very well, lol! certainly is easy to prepare, and I enjoyed this immensely. Mine didnt come out as stiff as I had thought it might, I've read of polenta being sliced into squares for serving, but perhaps if I left it longer, or baked it after the initial cooking. Ah, going back to CLs notes, yes, it would stiffen if I left it longer. Okay, next time!! Certainly going to give it another go.. after all, I still have 3/4 of a packet left, lol!!! And I really liked it. I served this with shrimps sauteed in garlic butter, and Recipe #410540, and for my taste, this was a jolly very nice supper, lol!!!!! Thank you, CL, made for Aus/NZ swap#37
In a 2-1/2 to 3-quart microwave-safe casserole dish, combine polenta and 1 tablespoon of the butter. Stir in broth and water. Cover; microwaveon High for 12 to 13 minutes, stirring every 5 minutes. Let stand, covered, for 8 to 10 minutes or until polenta is thick and all liquid has been absorbed. Spoon into a serving dish. Dot with remaining butter and stir until butter is melted; then sprinkle with cheese. Season to taste with salt and pepper.