Pressure Cooker Whole Chicken
KateL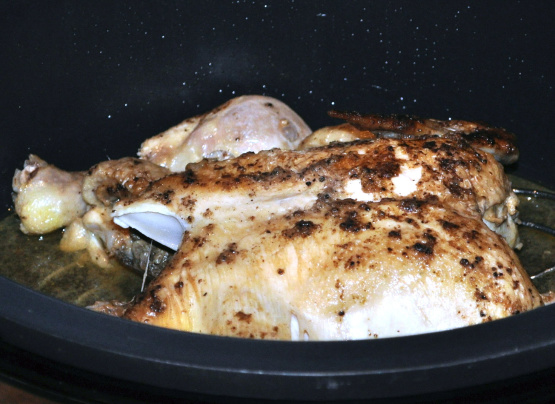 I've fallen in love with my pressure cooker and was anxious to try this. It's now my new favorite way to prepare a whole chicken. This recipe is a combination of ideas I found online, and you certainly could use any seasonings you want. The chicken turns out somewhere between roasted & stewed, and is delicous, tasty & moist. I served it with brown rice tossed with some dried basil & moistened with some of the juice from the chicken. You can have a real feast in 45 mins. tops!

The is a great master recipe! It allows cooks some creativity if desired but is FANTABULOUS just as is.

I made this using a whole chicken (approx 4 lbs). Browned It on all sides after seasoning generously with salt and pepper. While it was browning I popped the broth into the microwave then steeped a sprig of rosemary in the broth.

Also readied approximately 10 cloves of garlic, peeled.

After browning, I poured in the broth, inserted half the garlic into the chickens cavity and also the steeped rosemary sprig.

Then put chicken on the rack and sprinkled remaining garlic and additional rosemary sprig onto of chicken. Turned out great!!

Made some roasted garlic and caramelised onion smashed potatoes with cream and a dash of nutmeg.

Ticked the remaining sauce from the chicken and poured over the potatoes!

Lovely and thanks for the recipe!

Last week's carnitas and today's chicken are justification enough for procuring this pressure cooker.

I used a 6qt Cuisinart Electric unit, by the way.
Rinse chicken & pat dry. Season with salt & pepper.
Heat oil in uncovered pressure cooker; brown chicken on all sides in hot oil. Remove chicken.
Place rack in pressure cooker and place browned chicken in rack. Add water/broth around chicken.
Place lid on cooker, seal, and bring up to pressure.
Cook for 25 minutes.
Release pressure by quick release method.
Remove chicken to platter, pour accumulated juice into bowl & serve with chicken.