Pressure Cooker Meatballs
Emena J.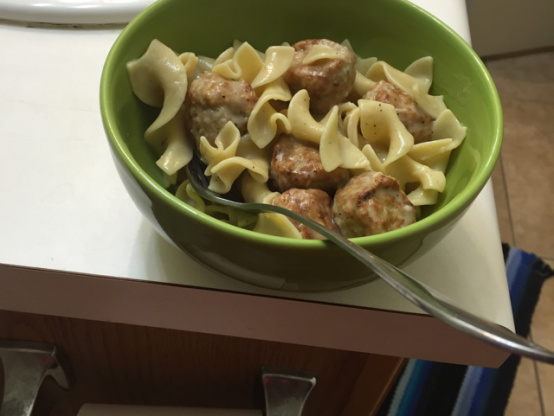 For all you pressure cooker addicts like me, here is a great recipe for weeknight dinners...the leftovers are great re-heated. Of course you can serve without the noodles for a smorgasbord or pot-luck. Adapted from "125 Best Pressure Cooker Recipes" by Cinda Chavich (my favorite pressure cooker cookbook). She uses dill in her meatballs, I don't like dill, so I make mine with thyme and oregano. You can easily customize the type and amount of spices. I actually add a liberal dose of Hungarian Paprika to the sauce. Definitely mince the onion, a bigger chop does not mix well, as the meatballs are small. The sauce is more thin than thick, so sometimes I add a little "Wondra". Enjoy!
My husband and I were very excited to try this recipe, but I'm not sure we will ever make it again. As I was mixing the meat at the very beginning I couldn't believe how much thyme they have listed to add and I should have listened to my gut. All we could smell the entire time the meatballs were cooking was thyme, and it was simply overpowering when we tried to eat our meal. I only recommend the recipe as-is if you truly enjoy thyme. I also had some trouble with the sauce, as it never really came together as expected. I might use the basic outline for cooking times or other features of this recipe, but we sure won't be making it any thyme (see what I did there?) soon.
1

slice whole wheat bread
1⁄2 cup milk

1

lb extra lean ground beef

8

ounces ground pork

1

egg

1

small onion, minced
1 1⁄2 tablespoons dried thyme

1

tablespoon dried oregano
1⁄2 teaspoon salt
1⁄4 cup butter
1⁄4 cup all-purpose flour

0.75

(14 ounce) can chicken stock, diluted with equal amount of water (you can sub homemade beef broth for the chicken broth)
1⁄2 cup whipping cream
salt (to taste)
pepper (to taste)
cooked egg noodles
herbs, garnish (parsley, fresh herbs anything you like to add some color)
In a large bowl, soak bread in milk until absorbed. Using your hands, break up bread; mix in beef and pork. Stir in egg, minced onion, thyme, oregano and salt. Form into 3/4 inch (2 cm) balls. This is often a smaller size than you think! Set aside.
In a pressure cooker, melt butter over medium-high heat; stir in flour until moistened. Gradually whisk in beef broth and water. Bring to a simmer. Carefully transfer meatballs to sauce.
Lock the lid in place and bring cooker up to full pressure over medium -high heat. Reduce to medium-low, just to maintain even pressure, and cook for 10 minutes. Remove from heat and release pressure quickly. Stir in cream and simmer until sauce is creamy and thick. Season to taste with salt and pepper. Serve over cooked egg noodles, sprinkled with garnish of choice.