Pressure Cooker Hungarian Chicken
Tread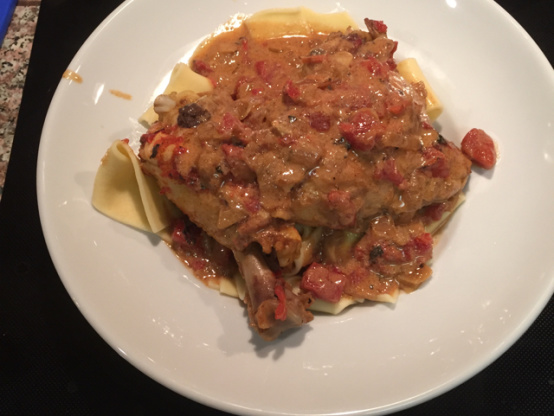 I adapted this recipe from "The Pressure Cooker Gourmet", by Victoria Wise. You can substitute any kind of chicken pieces, bone-in or boneless. You would just need to adjust cooking time based on your choice. I actually leave the skin on, I'm weird and kind of like the skin, even when its "soggy"!

Loved this recipe and my husband declared it "excellent"! It was a taking off point for me because I like to use more veggies. I also substituted non-fat Greek yogurt for sour cream and served it over brown rice. Not sure why 3 1/2 to 4 lbs of chicken is supposed to feed only 4 people. I didn't brown the chicken to avoid drying it out. I diced a carrot and a parsnip and sauted them with the onion before adding the chicken. I used a can of tomatoes instead of fresh and layered thick shreds of green cabbage on top of the chicken before putting the top on the cooker. The cabbage was perfectly cooked, melting into the sauce but not overcooked -- no"cabbagey" smell. The chicken was fork tender but not dry. Delicious!
1

tablespoon vegetable oil
3 1⁄2-4 lbs chicken leg quarters, bone-in and skinned

1

small onion, finely chopped

2

teaspoons hot paprika, preferably Hungarian
1⁄2 cup chicken broth

1

medium tomatoes, peeled and coarsely chopped

1

teaspoon salt
1⁄2 cup sour cream

6

ounces extra- wide egg noodles, cooked, drained and buttered
Heat the oil in the pressure cooker over medium-high heat until beginning to smoke. Add the chicken pieces and cook until golden all around, 4 - 5 minutes. Transfer to a plate.
Add the onion, paprika, and broth and stir to mix. Return the chicken to the pot and add the tomato on top, but don't stir it. Add the salt.
Lock on the lid and bring to pressure over high heat, 4 - 5 minutes. Reduce the heat to medium and cook for 7 minutes. Remove from the heat and let sit for 5 minutes to finish cooking.
With steam vent pointed away from you face, gently release any remaining pressure and transfer the chicken to a plate. Set aside in a warm place while the liquid cooks in the pot for 15 minutes.
Whisk the sour cream in a small bowl until smooth. Add 1/4 cup of the liquid from the pot and whisk until smooth. Pour the sour cream mixture into the pot and whisk to mix. Return the chicken pieces and any juices to the pot. Reheat briefly without boiling.
Spread the warm egg noodles on a serving platter. Arrange the chicken over the noodles and pour the sauce over all.