Pressure Cooker Golden Mushroom Beef Stew
Annacia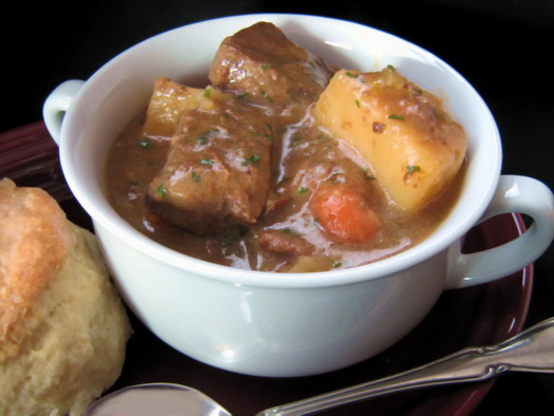 This is a recipe I adapted from how I make stew in a crock pot/slow cooker. The golden mushroom soup (I use Campbell's brand) makes a great gravy and you don't have to do anything to it. When I make it in the crock pot I don't even add water, I just use 2 cans of soup. The juice from the meat is enough liquid to make a great gravy. My family loves the taste and it is so easy!

This was awesome!! I wanted to make something that I could enjoy now, and freeze some for later and this was a great recipe. Very tasty. I did have to thicken it up with cornstarch at the end, but it was great (I like my stew very thick!) Try this you will be very pleased!
Heat oil in bottom of pressure cooker until hot and add the meat all at once (do not turn for at least 1 minute - you really want to let the meat sear
Stir the meat, letting it brown on all sides. Next, add the onions, carrots, mushrooms, potatoes, salt, pepper, parsley, golden mushroom soup, water and optional beef bouillon(the bouillon gives a stronger flavor)
Lock the pressure cooker lid in place and bring to high pressure over high heat.
Cook 15 minutes.
Cool pot immediately and serve.
If the gravy isn't thick enough then stir a bit of cornstarch to some cold water (only about 1 T to half a cup of water) and add to the gravy. Bring to a boil and the gravy will thicken.