Pressure Cooker - Chili Con Carne
em...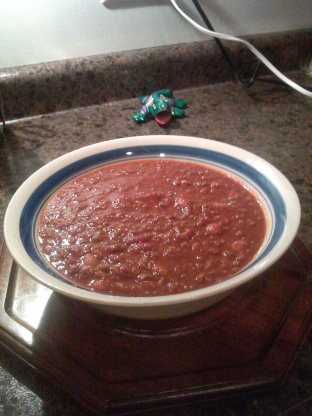 This recipe originates from the booklet that came with my Futura pressure cooker. I love substituted low sodium ingredients because I am watching my sodium intake. I hope you like this.

Top Review by arowe
Pretty excellent! I made a few changes: (1) Used half as much ground beef; 2.25 lbs is a lot of meat. (2) Used the entire bag of kidney beans, a full 2 cups instead of 1.5 cups. (3) For tomatoes I used 2 - 14.5 oz cans of Hunts petite diced. (4) Why just 1 Tbs of tomato paste? What do you do with the rest of the can. I just added the entire can. (5) Using Mrs Dash is a fine idea which I followed. A fun recipe...thank you!!!
Divide meat into 2 batches. Heat 2 tablespoons oil in cooker for about 2 minutes. Brown and remove first batch. Add another 2 tablespoons oil to cooker. Brown and remover second batch.
Add remaining oil (4 tablespoons) to cooker. Add onions and garlic. Stir fry til onions are light brown. Add meat and remaining ingredients. Stir.
Close cooker. Bring to full pressure on high heat. Reduce heat and chook for 18 minutes.
Remove cooker from heat. Allow to cool naturally.
Open cooker. Discard bay leaves. Serve hot.