Pressure cooker chicken stock
IngridH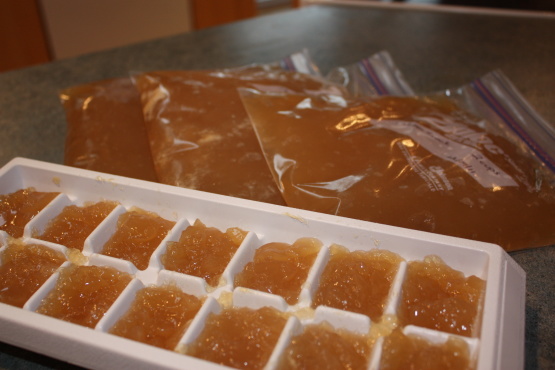 I save chicken parts in a plastic zip-loc bag in the freezer and when I have enough, I make this stock. This is a really easy, fast way to make good homemade chicken stock. I freeze the stock in a variety of amounts; ice cube sized, one cup and 2 quarts.

Gotta love a pressure cooker to shorten what is usually an all day project when simmering the stock on the stove. A helpful hint: To deepen the chicken flavor, I first roast the chicken parts in a baking pan or roaster, at 350 degrees, until they brown, which takes about 45 minutes to an hour. Then I add the parts and all the drippings into the pressure cooker. I also stir the water into the roasting pan first to pick up any flavors left from the roasted parts, scraping up any bits left stuck to the pan. That "brown stuff" stuck to the bottom of the pan imparts a lot of yummy chicken flavor into the finished stock. I hate wasting flavor. And Yes! I am glad you specify to leave the onion unpeeled. The skins add a nice flavor and deepen the color of the stock. Thanks for sharing your recipe, Hey Jude!
Combine all the ingredients in the pressure cooker.
Cover and bring up to high (15 lbs) pressure.
When control is jiggling vigorously, reduce the heat so it jiggles about 2-4 times per minute and cook for 25 minutes.
Release the pressure, either by letting the cooker sit until pressure is naturally released, or by carefully running cold water over the cooker (use mitts and clear the sink before releasing pressure that way).
Strain the stock and refrigerate until the fat solidifies; remove the fat and refrigerate for up to 3 days, or freeze.