Pressure Cooker Beef Barley Vegetable Soup
em...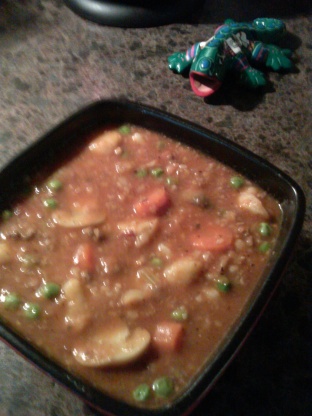 This is a cross between a soup and a stew, and is the perfect supper for midwinter warm-ups. Serve it with a salad or coleslaw and warm rolls with butter.

Top Review by wayl0n
I am a soup lover, and also a lover of my pressure cooker, but until now have not found a good soup recipe. This is one of the easiest, healthiest and heartiest soups I have had, the whole family loves it. When shopping the ingredients, we could only find quick barley. I was also scared because some past pressure cooker soup experiments have cooked some of the vegetables okay, but others were severely over-cooked. So just for fun, I tried browning the meat, then adding all remaining ingredients and bringing to pressure for 10min (vs bringing to pressure two different times), this was perfection! Everything was cooked perfectly, and the flavor was great. I did increase the water 1/2 c, and also added 1/2lb frozen cut green beans to the mix, then after removing from pressure, I will add 1/3lb frozen peas. Much thanks to the author, we make this a few times a week!
Brown the beef in the pressure cooker.
Drain off any fat.
Add the tomatoes, water and barley.
Close pressure cooker and bring up to full pressure.
Reduce heat to stabilize and cook for 10 minutes While the soup is cooking, split the carrots in half lengthwise, then cut into 1/2" thick slices.
Peel and dice the potato.
Dice the onion and mince the garlic.
When the soup has cooked for 10 minutes, realease pressure and add the vegetables, basil, thyme, rosemary, marjoram, salt and pepper to taste.
Close pressure cooker and bring up to full pressure.
Reduce the heat until pressure is stabilized and cook and cook 10 minutes longer.
Release the pressure.
The soup can be refrigerated for up to 4 days or frozen.