Ingy1171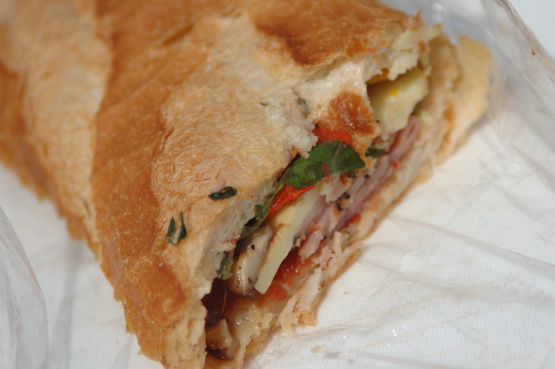 This is an adaptation of a Martha Stewart recipe that hubby and I bring on picnics during the summer. We pack it into the bottom of our picnic basket and let the weight of the ice packs and beverage (read wine) to weigh it down. You can use any combination of meats, cheeses, and greens, but I would not substitute the black olive paste, marinated artichokes, or the vinegrette. Don't be scared off by the ingredients or directions; this is a simple sandwich that packs a very flavorful punch.

Made this sandwich for a romantic picnic with my girlfriend. Was very good. She loved it more than I did. I took the rest of the sandwich to work the next day, and every one loved it. I used Kalamata Tapenade, I am not sure if that is what the recipe called for, but it came out good. I did every thing else exact. If I were to do one thing different, I would double the amount of prosciutto, or at least use more. We had pinot noir with it that went very well, along with some lightly salted Kettlemans potatoe chips. We also tried a potatoe salad with it, but that did not work well at all.
3

medium red bell peppers or 1 (12 ounce) jar roasted red peppers
1 1⁄2 teaspoons Dijon mustard

1

tablespoon balsamic vinegar
1⁄4 cup extra virgin olive oil

2

tablespoons warm water
salt & freshly ground black pepper

1

loaf rustic Italian bread, such as ciabatta
1⁄2 cup black olive paste (tapanade)

8

ounces fresh goat cheese

8

ounces marinated artichoke hearts

6

ounces prosciutto, thinly sliced
1⁄4 lb peppered salami, thinly sliced
2 1⁄4 cups loosely packed mixed fresh herbs (such as basil, cilantro) or 2 1⁄4 cups arugula
Roast Peppers: (skip if using already roasted peppers) Heat a grill or grill pan to hot; or heat broiler. Cook peppers until completely charred, turning frequently so all sides cook evenly, 8 to 10 minutes. Remove from heat. Place peppers in a deep bowl, and cover bowl with plastic wrap. Set bowl aside until the skins loosen and the peppers are cool enough to handle. Using your hands, rub off the charred skin, rinsing your hands frequently under cold running water. Slice peppers in half, and remove the seeds and stems. Cut flesh into 1-inch-wide strips.
Make the vinaigrette: In a medium bowl, combine mustard and vinegar. Gradually whisk in olive oil. Whisk in 2 tablespoons warm water. Whisk in salt and pepper to taste, and set the vinaigrette aside.
Slice loaf of bread horizontally, and remove soft crumb; reserve crumb for another use. Spread olive paste on the bottom crust, and add the roasted red pepper strips. Crumble goat cheese on top of peppers. Arrange artichoke hearts over goat cheese. Drizzle half of the reserved vinaigrette on top. Arrange prosciutto and salami over artichoke hearts. Drizzle with the remaining vinaigrette. Scatter herbs over meats. Place the top crust on sandwich.
Wrap the sandwich tightly with plastic wrap. Set a weight, such as a brick or large cast-iron skillet on top for at least 1 hour. When ready to serve, slice sandwich into ten pieces.