Kathy228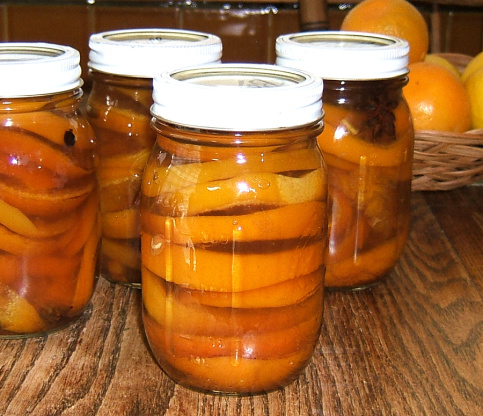 These have a spiced, very orange flavor, and NOT overly sweet. Can be used as an accompaniment for roasted duck or chicken; a garnish for desserts; eaten with cheese. A slice on a toasted and buttered English muffin is delicious. Modified from a recipe from an Australian News website.
Boil WHOLE oranges in salted water until soft. This should take about 25 minutes depending on size of oranges.
Drain the oranges and cool slightly.
When cool enough to handle, slice oranges thickly, picking-out and discarding seeds. Set sliced oranges aside.
Combine SYRUP ingredients in a large pot. Bring to a boil then simmer for 20 minutes. Turn off heat.
Gently add orange slices to the syrup in the pan. Let stand for 30 minutes.
Carefully pack into jars, ladling syrup over to cover oranges.
Adjust caps and water bath process 8 minutes.