Preserved Lime Tabbouleh Salad
WiGal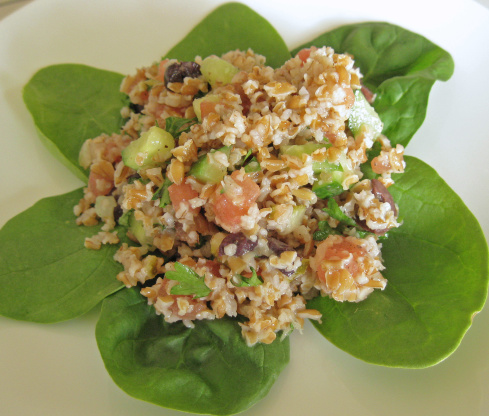 I found this delicious looking salad from Cooking Light May 2010 issue. The magazine states that, "Preserved citrus is a key to many Moroccan and Middle Eastern dishes. Traditional recipes take weeks. Our version is ready in a few hours." They suggest serving this salad with grilled tofu steaks.

Top Review by WiGal
Nice, and learned that I like bulgur-and easy too. Thought I would like this b/c I enjoy the ingredients-mostly. Never had tabbouleh before, but found this to be bitter so examined your recipe and now am convinced that it was because I used the WRONG kind of parsley. Honestly, the curly parsley is the only kind our grocery sells, so next time would omit it. Appreciate your technique for making the preserved lime-perfect. Served with recipe#428681 for our NA*ME lunch. Made for Unrulies Under the Influence during ZWT6 during Round 2.
236.59

ml bulgur, uncooked

354.88

ml hot water

236.59

ml English cucumber, chopped

177.44

ml plum tomato, chopped and seeded

177.44

ml fresh flat-leaf parsley, chopped

59.14

ml shallot, finely chopped

44.37

ml kalamata olives, coarsely chopped pitted

396.89

g can chickpeas, rinsed and drained

44.37

ml extra virgin olive oil

44.37

ml fresh lime juice

44.37

ml water

4.92

ml garlic, minced

2.46

ml salt

2.46

ml fresh ground black pepper

0.25

ml sugar

2

quarters quick preserved limes, finely chopped (ingredients for this below)

quck preserved lime

473.18

ml water

59.14

ml kosher salt

4

limes, quartered

1

bay leaf
To make the quick Preserved Limes:.
Combine all ingredients for the Quick Preserved Limes in a saucepan; bring to a boil. Reduce heat, and simmer 1 hour. Cool to room temperature; cover and refrigerate. Discard peppercorns, cinnamon, and bay leaf before using. Yield: 16 servings (serving size: 1 drained lime quarter).
To make the Tabbouleh Salad:.
Combine bulgur and 1 1/2 cups hot water in a medium bowl; let stand 1 hour. Drain. Combine bulgur, cucumber, and next 5 ingredients (through chickpeas) in a large bowl.
Combine oil and remaining ingredients in a blender; process until smooth. Pour dressing over bulgur mixture; toss well to coat.