awalde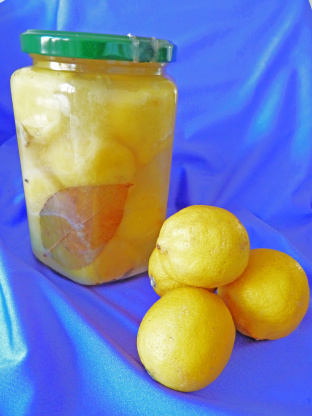 Found this recipe in Weight Watchers Holiday 2010 magazine and it looks like a simpler version than some I've read though it does take some patience in waiting for them to complete. Some uses for them are listed along with the recipe to include: Add thin strips of the zest to a green salad, use liquid form them in salad dressings, saute broccoli or green beans with chopped pieces and garlic, Stir chopped pieces into chicken or seafood stew during the last 10 minutes of cooking to name just a few. Prep time does not include waiting for peel to soften.

Top Review by awalde
Thanks Bonnie for the recipe. I got from friends in Greece a lot of very small lemons. I found this the best way to preserve them. I prepared 2 jars, each one with 16 lemons!
I added one bay leaf in each pot and I used pure lemon juice (no water) as I had a lot.
After one month I tried them for Maroccan chicken with olives and preserved lemons.
Delicious, super easy and highly recommended!
Rinse and dry lemons; trim tips of stem ends, starting at blossom end, cut each lemon lengthwise in quarters to within 1/2 inch of stem end, leaving all 4 pieces attached.
Divid 1/2 cup salt evenly among lemons, rubbing it onto pulp.
Close lemons and divide among 2 clean 1-quart jars with tight fitting lids, packing tightly.
Add 1/2 cup lemon jice to each jar and enough cold water to cover.
Add 1 tablespoon of remaining salt to each jar.
Cover and shake gently.
Chill, shaking jars daily and pressing lemons into liquid so they remain covered, until peel is softened, at least 3 weeks or up to 1 year.
To use, remove lemons from brine, romove seeds, and rinse.
Chop or cut into thin strips.