Elkaybee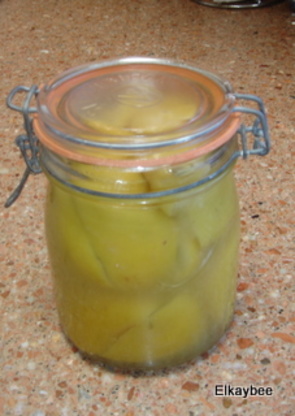 This is an adaptation of Paula Wolfert's quick method, made even faster by blanching the lemons first. We love it in all kinds of salads and as a low-fat alternative to olives.

this is it!!! my husband has been requesting it for some time now and finally i have it. although the process takes a long time to preserve(not the labor) it is very easy to make. we will have this around the house always and give as gifts this holiday season. thanks mirj!!
Blanch 6 lemons in boiling water 5 minutes.
When cool enough to handle, cut lemons into 8 wedges each and discard seeds.
Toss with salt in a bowl and pack into jar.
Squeeze enough juice from remaining lemons to measure 1 cup.
Add enough juice to cover lemons and cover jar with lid.
Let stand at room temperature, shaking gently once a day, 5 days.
Add oil and chill.
Preserved lemons keep, chilled, up to 1 year.