Cynna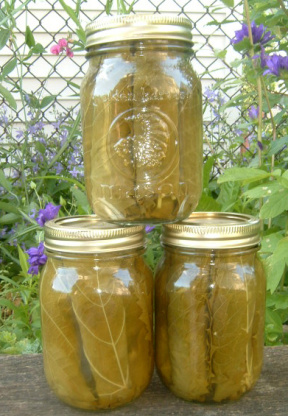 Preserving grape leaves to stuff with any mixture you desire using your own fresh young grape leaves.The grape leaves should be picked in the spring and remove the tough stem.

Thanks so much for this recipe. I use them in my dill pickles. We have bunches of grape leaves but when I get the cucs and dill in south texas to make pickles, no grape leaves. Next year I will have them with me. I might try the dolma too--never heard of it before. Gloria
Bring salted water to a boil.
Add washed grape leaves and blanch for 30 seconds.
Drain.
Stack them on each other into 2 piles then form into loose rolls and stand each roll up in 2 pint canning jars.
Add lemon juice or citric acid to the second quart of water and bring to a boil.
Fill jars within 1/2 inch of top with the hot mixture.
Seal.
Process in a boiling water bath for 15 minutes.