Prego No Pão - Garlic Nailed Steak in a Bun - Portugal
momaphet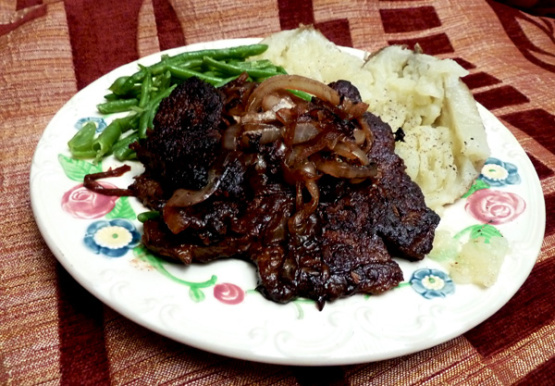 This recipe is submitted for play in ZWT8 – Spain/Portugal. It is a recipe by Ana Patuleia Ortins. Which came first, the Prego rolls of South Africa or the Portuguese Prego no Pão on the mainland. In South Africa, you will find these are very popular for Saturday lunches and served up with an ice-cold beer. This dish is also called by some as Bife no Prego.
Though the recipe is missing some ingredients in how to prepare it , I muddled through and it was delicious. I sprinked cumin onto the steak then pounded in the garlic. I added the chili pepper to the onion and wine and skipped the tomato paste because it seemed like an odd addition. We ate this without the roll but it would make a great sandwhich with a nice garlic aioli. DH likes his steak well done, so after searing the second side I tossed in the onions and let it cook on low for a while then added in the wine to let it braise. I like rare which , was hard to do because the steak wasn't thick enough to pound and still not overcook it a bit - still it came out quite tasty! Next time I will start with a nice thick steak for me! Thanks BK for another great recipe. Made for ZWT 8 by one of The Wild Bunch
Place the steaks on your workspace or cutting board, lay slices of garlic on one side of the steaks and using a tenderizing mallet, "nail" the garlic to the steak by pounding the slices into the meat. Repeat on the reverse side of the steaks.
Melt 3 tbsp of butter in a skillet over medium-high heat and fry each steak in the butter for two to three minutes, turning once and transfer to a dish and cover .
Melt the remaining butter in the same skillet, add the onions and sauté until they are golden, then transfer the onions to the dish holding the steaks.
Pour the wine and salt, black pepper, chili pepper, cumin and tomato paste into the same skillet and using the flat edge of a wooden spoon, scrap up the brown coating on the bottom of the pan.
Raise the heat to medium-high and reduce the sauce by half.
Return the onions and beef to the sauce and heat through for 1 minute.
Serve the beef and onions, drizzled with the sauce, on crusty rolls.
Note: Many people also enjoy this sandwich with lettuce and a slice of tomato added to it.