Preacher's Chocolate Cake
CindiJ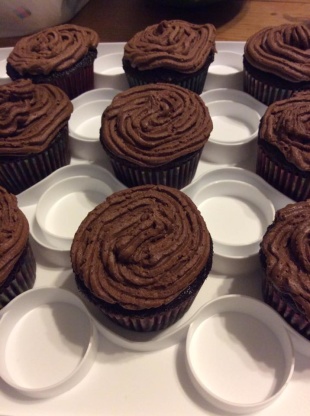 I don't know where my mother got this recipe from but it is a wonderful rich moist chocolate cake. Frost with Whipped Cream Frosting and it tastes just like Hostess Cup Cakes but oh so much better. Mom would make 2 layers - fill and frost sides with the Whipped Cream Frosting, then use regular chocolate frosting for the top. Milk anyone?

Yes, this is a wonderful cake. One that I make alot of times and it is well enjoyed. This is a keeper!
Cream together sugars and shortening till light and fluffy.
Add 2 beaten eggs mixing well.
In separate bowl sift together flour, baking soda, cocoa.
Add to creamed mixture in thirds, alternating with soured milk.
Beat well after each addition.
Fold in boiling water and vanilla.
Pour into 2 greased and floured 9" round cake pans.
Bake in preheated 350º oven 18-24 minutes or until toothpick inserted comes out clean.