Pre-Cooked Grilled Chicken
Boomette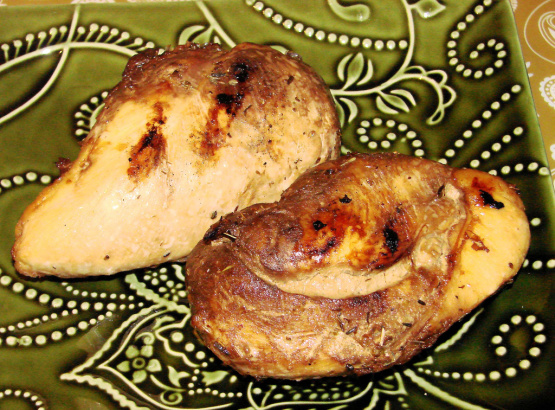 This grilled chicken gets great flavor from the outdoor grill, but cook time outside is quick because it is partially cooked beforehand. Marinating time is not included in the prep or cook time.
Because of DH, the chicken was almost 24 hours in the marinade. But we liked the taste of the chicken. The texture was perfect. We used it in a salad. The chicken was not dry, which was perfect. That's a great way to cook the chicken. Thanks Lynette :) Made for Photo tag game
Place the chicken in a large Dutch oven. Add enough water to cover; bring to a boil. Cover, reduce heat, and simmer 15 minutes.
Drain the chicken and place in a large shallow container. Combine the remaining ingredients, stirring well; pour the marinade over the chicken. Cover and refrigerate 4 hours, turning frequently.
Remove the chicken from the marinade. Grill over medium coals for 10 minutes or until done, turning once.