teresas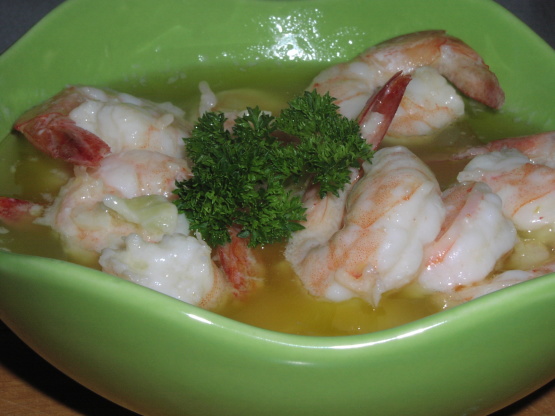 Taken from epicurious .com and posted for ZWT. "Our appreciation of peri-peri prawns comes from Mozambique, where these shellfish are cooked in the traditional Portuguese style." Cook/prep time DOES NOT include time for sauce to 'age'. According to the recipe, 2 weeks is the optimal time for this flavorful sauce to age. You will not use all of the sauce made, for this recipe; there will be leftover sauce, for next time!

3/25/2012 So no rating yet...I just wanted to show you the Peri-Peri mellowing out in the fridge trying to age...personality I think you can age faster in the sun...but we will just have to wait...I did like really down size the Peri-Peri because there's just two of us and I plan to cut the recipe in half...so with that said...I use 1/4 oz chilies, 1/2 garlic clove, crushed and I minced it to...ok it was like a whole clove cuz I like garlic, 1/4 cup olive oil and 1/8 of a small lemon, rind and stripped thinly...I'm sure this is going to be tasty...be back with the final results in about 2 weeks...:) We enjoyed this tasty dish with our dinner last night...we all felt that the peri-peri sauce was lost in the dish...there's so much butter that overpowers the rest of the ingredients...but it's still delicious...I could see omitting the sauce and just throw in some chili peppers and extra garlic...thanks for posting...made for Spring 2012 PAC
PERI-PERI SAUCE.
**Mix the ingredients together in a bottle and shake well. You can make the sauce ahead and store it in the fridge; the flavour improves with age, reaching its peak at two weeks.**.
Slit prawns down their backs and devein.
Leave heads on, or remove them if you prefer.
Depending on the size of your frying pan, cook them in one or two batches.
Heat the butter gently and add the garlic and lemon juice.
Don't let the garlic burn.
Add prawns and peri-peri sauce. (Shake first to make sure you get some of the chilli and garlic as well.).
Sizzle for 4-5 minutes, turning frequently, until cooked.
Season with salt and pepper and tip into a warm serving bowl.
Garnish, if you wish, with chopped fresh parsley. Serve with rice or bread and butter.