Peter J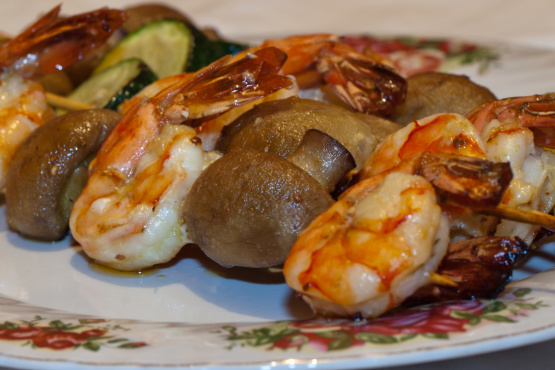 Going through my old handwriiten cookbooks and found this gem. I remember making these once for a B.B.Q. and thought I would share!

Simple and delicious! I made a few small preparation changes slicing the mushrooms and zucchini to suit the size of the prawns / skewers but otherwise stuck with the marinade and cooking method. The subtle lemon / garlic flavour was great and the olive oil in the marinade helped it all cook evenly.
Shell and devein the prawns. Top, tail and wipe the zucchini and slice into think rounds. Clean the mushrooms with a soft cloth and remove the stems. Put the prawns, mushroom caps and zucchini into a large bowl. Add the marinade and cover with cling wrap and leave for 1 hour gently stirring the mix occansionally.
After 1 hour drain off the marinade and thread the prawns, zucchini, and mushrooms alternately onto skewers. (I use 3 of each thing on each skewer).
Place skewers onto an oiled baking tray and cook in a moderately hot oven for 20-25 minutes, basting them 4-5 times during cooking with the cooking juices.
Serve hot.