Prep 10 mins
Cook 20 mins

Got this recipe from my friend Denise, she serves this at all her parties and family gatherings, and it is always a hit, but so easy!!! She usually buys the little cooked and peeled prawns from the deli.
Directions
Mix it all together and put in a mould.
Unmoulded when ready to serve.
Reviews
Most Helpful
This was a refreshing change of pace and easy to put together. I will definitely make it again, but I think some more curry would be in order, as I barely noticed it. It's a great combination of ingredients and makes a pretty presentation. Made for Aussie/NZ Swap #65.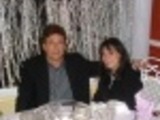 I am so pleased that I chose this recipe to make for the Aussie / Kiwi Swap Nov 2011. As fresh mangos are a trifle expensive in NZ I used canned ones instead which worked out just fine. The little hint of curry was perfect. I used about 1/2 a tsp. This is a very quick and easy recipe to make and I'll definitely be making it again over the coming summer months. I assembled it in the Tupperware mould and while it didn't totally fill it, it did create a delightful looking salad when turned out.

This is a very nice salad. I made half the recipe for lunch today and have a little leftover for a snack. The subtle hint of curry was perfect! Made for Aussie Swap #33.