Prawn and Asparagus Rolls
sarahman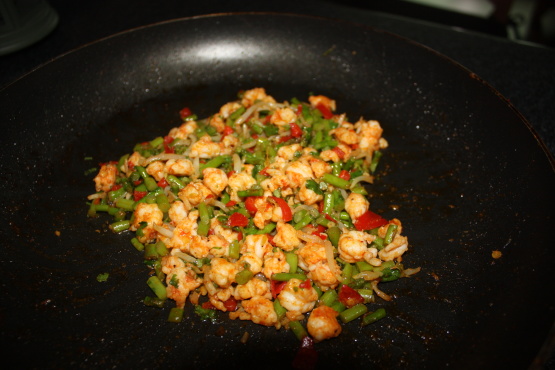 Just a simple stir-fry I came up with wrapped in egg roll wrappers. An easy recipe, which can be easily improvised. Don't put too much in each wrapper, and make sure that it is properly sealed. Tips for sealing: Mix a little flour [pref. corn flour] with water to form a sticky paste. That's yer glue. AND, add in the coriander leaves based on your own desired amount. I couldn't get a picture once it was fried as they all disappeared!
Heat the oil, throw in the chilli when it's really hot.
Add the ginger and garlic and stir.
Place the prawns in the pan, followed by the asparagus and bean sprouts.
Once the prawns change colour, add the chilli & turmeric powder and stir until it is evenly spread.
Add the red pepper flakes, garam masala, black pepper and salt.
Let it cook for a quick while, and turn off the heat.
Stir in the coriander leaves.
Cut egg roll wrappers in quarters [if they come in big sqare pieces].
Place about 1 tsp of filling and roll, securing with the corn flour mix.
Heat the oil for deep-frying and fry til golden brown on all sides.