Prassorizo (Greek Leek Risotto)
PaulaG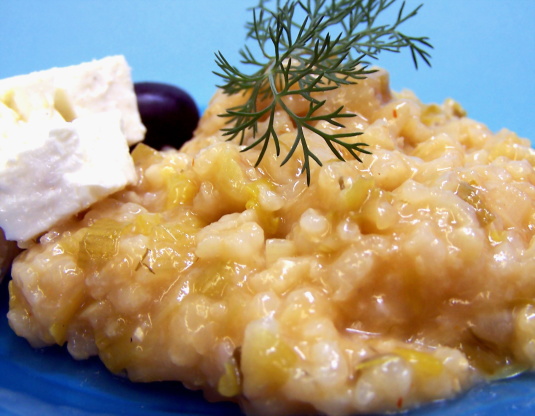 This is a simple Greek dish - very easy to make and very easy to eat. It is not a risotto in the Italian sense of the word, so don't look for that technique here. Still, you will be pleasantly surprised with how we do it (it's easier!). I would make this using water for a meal suitable for the Lenten Fast. The stock adds richness and more depth and the parmesan is just plain delicious on it. In Greece we would eat this (without the parmesan) with a hefty slice of feta on the side, some kalamata olives, crusty bread and a glass of wine.

Yum! What a nice and simple rice dish. Like other posters have said, it took longer than a half hour for the broth to soak in (almost an hour), but the results were worth the wait. I used broth instead of water and I used a lot of olive oil; the finished product was very flavorful. Thanks!
In a large saucepan, saute the leeks and onion in the olive oil until softened, 4-5 minutes. Add 1/2 cup water and tomato paste and bring temperature down to simmer. Cover saucepan and simmer for 20 minutes, stirring occasionally.
Add rice and 5 cups hot liquid, bring to boil, cover and simmer for 15 minutes, stirring occasionally.
Stir in dill and lemon zest and juice. Remove from heat and allow to 'sit' for anywhere from 35=45 minutes before serving. The risotto will absorb extra liquid during this time, but remain creamy and hot.
Serve with freshly-grated parmesan and cracked black pepper.