Prep 10 mins
Cook 12 mins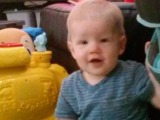 This is one of my favorite recipe from my aunt. She always made these for us when we would come to visit.
Directions
Preheat oven to 350 degrees.
Line a 15x10x1-inch jelly roll pan with graham crackers.
Bring butter and sugar to rolling boil;
Boil 2 minutes.
Remove from heat.
When bubbling subsides, add chopped pecans.
Spoon over graham crackers.
Bake praline squares at 350 for 10 minutes.
Cool slightly; cut praline candy into 1-inch squares.
Most Helpful
Terrific! I also add shaved chocolate as soon as it comes out of the oven. You can also add crushed Heath Bars, but put them on at the end.