Chilicat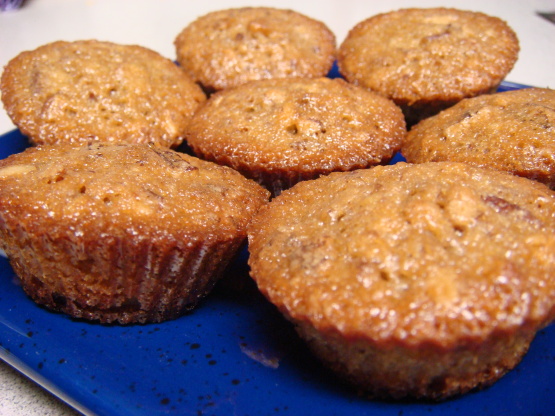 Great quick and easy recipe from New Orleans, Louisana "Cajun Cookin' School". Picked up the recipe at their store/kitchen/cafe on my way back from Katrina Hurricane Relief along the Gulf Coast of USA. Has been a great treat for friends with a sweet tooth. LOL Actually my wife loves them too. I Bake'em, bag'em 6 in a bag, and we eat'em, whenever!

These are the best muffins ever! My entire family love them. They are so easy and quick to make. Definitely one of my favorite desserts!
Mix all dry ingredients together in small bowl.
Add melted butter to beaten eggs and then add dry ingredients. Refrigerate for 10 minutes.
Use metal mini-muffin pans and spray with a non-stick cooking spray for baking or with flour. You MUST use metal pans and non stick spray or muffins will stick in pans.
Use a tablespoon and spoon each muffun about 3/4 full into muffin pans. Use a second spoon to slide the mix cleanly off.
Preheat oven to 350 degrees and bake for 20 minutes. Remove from oven and let rest 5 minutes. Gently tap pans upside down and muffins will fall out.