WiGal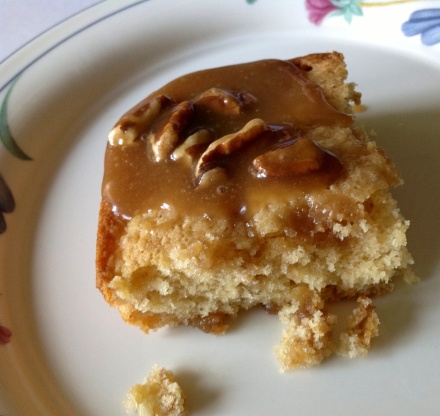 Melted ice cream is the key ingredient in the batter of this cake. This one's so tender, it almost melts in your mouth. The Praline Sauce is a wonderful added touch!

THANK YOU, before I say anything else, for this recipe. It was beautifully tender and I really appreciate one thing more than anything about this cake- the fact that it is much lower in calories than the cakes I have baked earlier. I have a STRONG feeling that this one's going to become one of the "very special and wanted to be had more often" cakes at my home. Today being the Indian festival of Raksha-Bandhan(the festival of the immortal love of brothers' and sisters' for each other), I wanted to bake something really good for my brother, and ofcourse, family and friends, and I am SO GLAD I decided on making this. I used low-cal plain yogurt instead of sour cream, cornflour instead of cornstarch, vanilla essence instead of vanilla extract, almonds instead of pecans and 3/4 cup of cornflake crumbs instead of Graham cracker crumbs. This cake has come out so soft that my brother teasingly has described it as, "Its soft as the bum of a new-born baby", I guess that says how light as a feather and soft as cotton this cake is! Thank U very much indeed for this outstanding recipe. Definitely a KEEPER! I'm sure its going to be gone in 60 SECONDS!
In a heavy saucepan, combine the brown sugar, sour cream, 2 tablespoons butter and cornstarch.
Cook and stir over medium heat until mixture comes to a boil.
Remove from the heat.
Stir in 1/2 teaspoon of vanilla; set aside.
Melt the remaining butter; place in a mixing bowl.
Add ice cream; stir to blend.
Add eggs, one at a time, beating well after each addition; stir in the remaining vanilla.
Combine the flour, cracker crumbs, sugar, baking powder and salt; gradually add to ice cream mixture until combined.
Pour into a greased 13x9 inch pan.
Drizzle with half of the praline sauce.
Bake at 350 for 25-30 minutes or until a toothpick inserted near the center comes out clean.
Cool on a wire rack.
Add pecans to remaining sauce; spoon over warm cake (sauce will not cover the entire cake top).
Cool in pan.
serve with whipped cream if desired.