Prep 10 mins
Cook 30 mins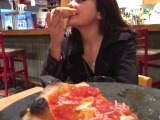 Just like pralines but softer.
Directions
Mix the milk and sugar (equal parts of cream and sugar if you are adding to recipe).
Boil until thermometer reaches 210F and add butter and vanilla.
When temperature reaches soft ball stage add 1-1/2 cups pecans.
When temperature reaches 2 degrees higher than soft ball stage, turn heat off and whip until it feels heavy.
Spoon on buttered platter by spoonfuls.
Allow to cool.
NOTE: If doubling recipe, cook 2 degrees higher.
Soft ball stage is 235 degrees F.
Most Helpful
Do I look fat? Does this make me look fat? Well, so much for dieting, but oh so worth it. Made for PRMR.

I followed the directions watching the temperature so closely. It was dry and crumbly after it cooled. What did I do wrong?
Looks wonderful. But my sugar burnt before it ever reached to soft boil stage, even on simmer. Very disappointing!