Ms B.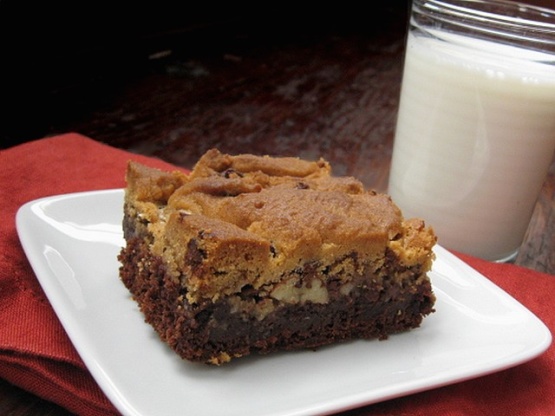 A 2007-Pillsbury Bake-Off recipe. Combines two favorites--brownies and chocolate chip cookies in a bar.

Top Review by Ms B.
Rich! Rich! Rich! I don't know how else to describe this dessert. I am known for my lack of patience in baking, and this recipe made up of convenience foods was a hit as a treat for some friends. I warn you to cut small squares, as you probably won't be able to finish a full brownie. They are that sinful.
1

(19 1/2 ounce) boxpillsbury brownie classics traditional fudge brownie mix
1⁄2 cup vegetable oil
1⁄4 cup water

2

large eggs
1⁄4 cup butter
1⁄4 cup milk
1⁄2 cup granulated sugar
1⁄2 cup packed brown sugar
1⁄2 cup coarsely chopped pecans
1⁄2 teaspoon vanilla

1

(18 ounce) roll refrigerated chocolate chip cookie dough
Heat oven to 350°F.
Spray 9 x 13-inch pan with cooking spray.
Make brownie mix as directed on box, using oil, water and eggs.
Spread batter evenly in pan.
Bake for 25 minutes.
In a 2-quart saucepan, heat butter, milk, granulated sugar, brown sugar, pecans and vanilla to boiling, stirring constantly.
Reduce heat to med-low; simmer 3 minutes, stirring constantly.
Remove from heat; set aside, until brownies are baked.
Immediately pour praline mixture evenly over partially baked brownies.
Cut cookie dough crosswise into 4 equal pieces; cut each piece into 4 slices.
Carefully place slices in 3 rows of 5 slices each, using last slice to fill in spaces (spaces between cookie dough pieces will spread during baking to cover top.
Bake 23-28 minutes longer or until cookie dough is deep golden brown.
Cool 2 hours.