Power Peanut Butter Biscotti
Katzen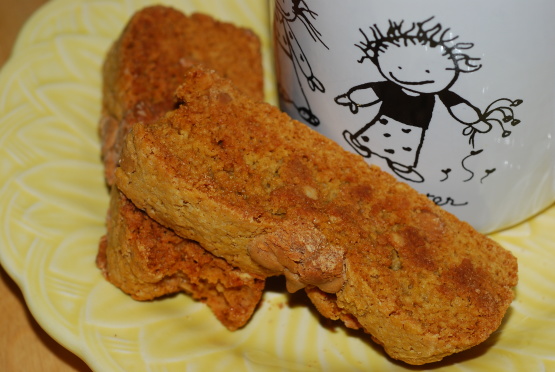 I came across this recipe from an old Cooking Light Magazine and boy it is a nice twist on a standard biscotti. They state that since peanut butter is used in place of butter the proteins and B vitamins are greatly increased. Just a fun way to serve biscotti. It is great dunked in hot cocoa!!

Top Review by Katzen
Simple, and delicious - my favourite kind of recipe! I made them as per the recipe, only adding 1/2 cup of peanut butter chips - 1/4 cup to the batter, and 1/4 cup to the top. The instructions were bang on - but I don't know if it's my oven, but next time I'll reduce the 2nd & 3rd baking times to 10-15 minutes, as they came out a little darker than I'd like. DH was supposed to take these in to share with his co-workers today, but conveniently forgot... he thinks they're perfect on the go breakfast food! Made for PRMR Tag. Thanks for posting this excellent recipe, Hokies!
Preheat oven to 325°F.
Combine flour, sugar, baking soda and salt in a large bowl.
Combine peanut butter, vanilla, eggs and egg whites in a medium bowl, stirring well with a whisk.
Add peanut butter mixture to the flour mixture, stirring just until blended (do not overmix this dough).
Turn dough out onto a lightly floured surface; shape dough into a 10 inch long roll. Place roll on a baking sheet coated with cooking spray; flatten to a 1-inch thickness.
Bake at 325F for 35 minutes.
Remove roll from baking sheet and cool 10 minutes on a wire rack.
Reduce oven temperature to 300°F.
Cut cooled rolls diagonally into 18 slices. Place slices, cut sides down, on baking sheet. Bake at 300F for 20 minutes. Turn cookies over and bake an additional 20 minutes. (Please note cookies will still be slightly soft in center but will harden as they cool).
Remove from baking sheet and cool completely on a wire rack.