Swirling F.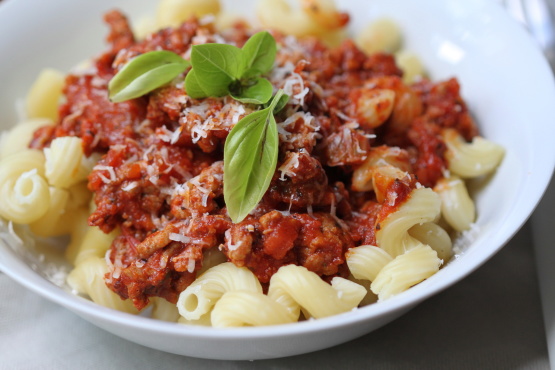 When I was a child, my family used to eat this at least once a week due to the fact that it is inexpensive and a little goes a long way. We also added fresh herbs or sometimes whole kernel corn. Its even better the next day and it freezes well.

Whether you are in no money times, or not, this is a SUPER MEAL TO HAVE! My hubby was so excited to try it, and I have to admit while cooking I ate a little here and there! LOL I did use ground turkey and put in an extra clove of garlic and 1 tsp basil. It was so good. I thank you for this wonderful meal that will come in good use at our home!
Saute onions and garlic in olive oil until translucent.
Brown ground beef and drain.
Add ground beef, tomatoes, water, raw macaroni, salt and pepper to the onion and garlic mixture.
Cook for 15 to 20 minutes or until macaroni is tender.
If desired, top with Parmesan cheese.
Serve with crusty bread and a salad.